Commercial Narrow Base Anti Bird Spikes
Can be used to protect buildings against pigeons, Indian mynas, seagulls, etc in a wide variety of situations, from daytime perching to night roosting sites and from narrow pipes to wide building ledges.
Have the longest life expectancy and the use of high tensile strength stainless steel in particular means birds cannot easily push them out of the way or bend them out of shape. UV-protection of polycarbonate bases further offers a valuable safeguard against cracking or breaking through prolonged exposure to sunlight.
 Are designed to have a minimum 7-year life span in service.
 Are far less visible than plastic ones because they do not reflect sunlight and attract far less dirt, continuing to remain tidy and unobtrusive over an extended period.
Have low profile bases that reduce visibility from the ground, with translucent plastic blending well into most building surfaces.
What Are Anti Bird Spikes?
Anti Bird Spikes, also known as an anti-roosting spike or roost modification, is a device consisting of long, needle-like rods used for bird control. They can be attached to building ledges, street lighting, and commercial signage to prevent wild or feral birds from perching or roosting. Birds can produce large quantities of unsightly and unhygienic droppings, and some birds have very loud calls that can be inconvenient for nearby residents, especially at night. As a result, Anti Bird Spikes are used to deter these birds without causing them to harm or kill them.
Described as "the most effective (type of) stand-alone bird deterrent", Anti Bird Spikes can be placed along ledges, walls, on top of commercial signage, closed-circuit television cameras and in rain gutters, in order to prevent birds from perching on the surfaces. Anti Bird Spikes are most common in city centres and coastal areas, where feral birds are more common and more likely to come into conflict with humans.
Key Features of Narrow Base Anti Bird Spikes
Prevent pigeons from perching on your property.
Great for most applications.
Long-lasting polycarbonate provides years of maintenance-free protection.
Easy to Install – they attach quickly with adhesive, nails, screws, cable ties, etc.
Are transparent spikes – polycarbonate is transparent which is practically invisible.
Flexible –  mount easily on flat, curved or irregular surfaces.
Environmentally Friendly and non-lethal. They do not harm or injure birds.
Economical – Sturdy plastic base does the same job as stainless steel at a fraction of the cost.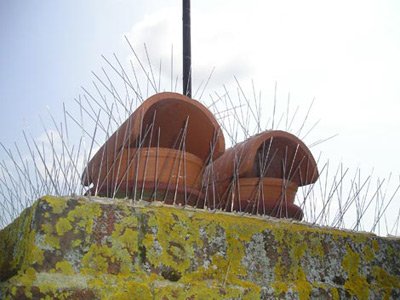 Specifications Of Anti Bird Spike
Material: Polycarbonate base and stainless steel wire
Wire Diameter of Spike: 1.3mm
Length of spike: 11cm
Spike Quantity Per Strip: 30 spikes
Protection Width: 10cm
Base Size: 50cm(L) x 4cm(W) x 11cm(H)
Bird Species – Pigeons, gulls, starlings
Bird Activity – Day-time perching, night-time roosting and some nesting areas.
Infestation – From light to heavily infested areas.
Substrate – Masonry, Steelwork (stainless and galvanised), lead, PVC, PPC, ceramic tiles, glass
Installation – Using a suitable adhesive or clip is critical to increasing life expectancy.
Visibility (wires) – Stainless steel bird spikes are far less visible than plastic bird spikes
Visibility (base) – Low profile base (5mm high) will not be seen from the ground level looking upwards
Base Colour – Slightly cloudy clear base blends well with most surfaces irrespective of the surface colour
The speed of Install – Anti Bird Spikes are quicker to install than other bird deterrent systems.
Installation Guide For Anti Bird Spikes
Ensure all areas are clean, dry and free from bird droppings. Remember to look up since the source of the mess might be from ledges or pipes higher up on the building and it is necessary for you to install the Anti Bird Spikes as well to prevent the droppings, twigs etc. falling down.
Install with screws or apply bird spike fixing silicone such as AVISIL Bird Spike Adhesive (10mm)] on the base of the spike strip. We would recommend 1 tube per 15 metres of bird spikes.
Stick the first row of Spikes towards the front of the ledge and then press down firmly. For very wide ledges 3 or more rows of spikes may be required but it is important to leave no more than 2 inches (5cm) between rows.
The Anti Bird Spikes can be easily snapped using your fingers. Snap them into pieces to finish off rows for small areas.
If there is a hole in the eaves or a cavity in the exterior wall behind the spikes, please block access to this hole or space with wire mesh or expanding foam. Prior to blocking the hole, make ensure that pigeons have not been trapped in the recess or any pigeon squabs or dependent birds found.
Pigeons will overcome any Anti Bird Spikes on lower parts by standing on the raised section, therefore, please make sure that the base of the spikes is fixed directly onto the top of any parts of the ledge that may be raised slightly higher than the rest of the ledge.
Warn window cleaners, contractors on ladders, scaffolders, painters etc. to be careful whilst working since slightly damaged bird spikes are likely to provide an ideal roosting or nesting spot for a pigeon. If any damage is caused, the spikes should be replaced to prevent the pigeons from moving back in.